Dating Advice
Articles Section
Tips For Setting Up an Online Dating Profile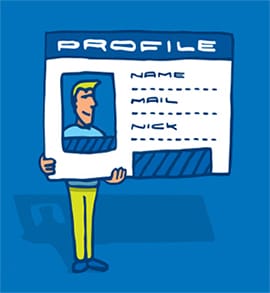 Although a lot of people have tried meeting someone online, not everyone succeeds in finding the right person. Whether it's something about your profile or some inconsistencies in your information, there are a number of things that might raise a red flag to the other person with whom you're communicating. To find success in free personals, you need to start the right way and set up a profile that says a lot about you without revealing too much. Having the right online dating profile is somewhat like wearing the right dress for your first date. We'll take a look at some useful tips that can help you in creating a profile that stands out from the rest.
Don't be someone else
It's only natural for us to want everyone to be amazed when they meet us. If we look at this desire a little closer, the truth is that we all just want to be loved and accepted no matter who we are. That's precisely why you need to avoid the horrible mistake of trying to make yourself seem interesting or impressive. Remember that not everyone shares the same interests as you, so focus on finding people who are actually attracted to the "real you". This means revealing your good side as well as your imperfections.
When translating this into your online dating profile, avoid posting about your highest accomplishments. What you need to do is to show your personality, the kind of person you really are, and the things that you value in life. For instance, you could list your favorite things such as the books you read, the music you listen to, and the movies you watch. Maybe add a bit about the goals you have for the future. This type of information can help you attract people who share the same values as you and are likely to be a good match for you.
Get help from close friends
Many of us find it difficult to describe ourselves, but we can still get help from the people who know us best – our close friends. In fact, they might even know you better than you know yourself. Your friends will be able to identify the things about you that might attract your potential match. They are the best people to write a realistic profile for you.
Play it "smart"
Even if you decide to write your profile yourself, avoid making grammatical errors and spelling mistakes. One of the biggest "turn-offs" for most people in the online dating scene is poor grammar and spelling. More often than, it's not about using fancy vocabulary or literary terms but correct and simple use of language. It doesn't hurt to take some time in writing an error-free profile, so make use of the spell check on your computer. Remember, you can check with your closest friends to review the draft you have already written. If you know someone who has better grammar and language skills than you, don't be embarrassed to ask them for help.
Choose the right photo
First of all, you need to use a photo that was taken recently – preferably not more than one year ago. The important thing is to look realistic in your online profile, so the people you meet have realistic expectations about who you are and what you look like. Another horrible mistake people make when posting a photo of themselves on dating websites is using their best pictures. Sure, a good photo is ideal but make sure it's not overly seductive without even a smile. A critical "don't" is a picture of yourself showing off your cleavage or your biceps or you'll come off as a self-obsessed individual.
Moreover, posting a photo that makes you look like you're "trying too hard" means you will also be attracting people who are equally self-involved. The best thing to do is to present yourself in a way that expresses your personality and moral values. This can be one of the easiest way to attract like-minded people that are likely to be a good match for you.
Whether you're looking for someone with a sense of humor or a mature and financially stable person, present yourself as who you really are. No matter what, avoid trying too hard to attract others because you will easily end up getting noticed by people without any real substance or good qualities.