What You Should Know About Dating a Dominican Girl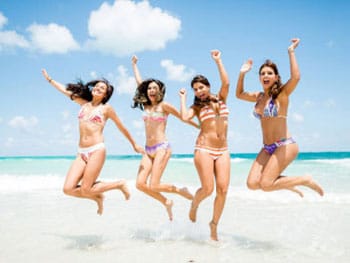 The world unanimously appreciates the beauty and vibrant nature of Dominican women. These Latin American women belong to a mixed race; so they have sexy voluptuous bodies and dark long hair. Here are a few tips for men who might be traveling to the island of Dominican Republic and looking to date a gorgeous Dominican girl!
She may be submissive, but she isn't weak
If you've mostly dated women from the U.S. or Europe, you may find Dominican women to be more respectful and submissive. But it would be a mistake to assume that these women are weak. The reason why Dominican women are sweeter and more submissive is because they want you to take on the role of the leader. These women are emotionally very strong and enjoy their femininity. So instead of taking advantage of this nature, you should give them a lot of appreciation.
Stay natural
Things between men and women flow pretty smoothly in the Dominican Republic. It is common for women to be extremely feminine and men to play the dominant masculine role. So any kind of routine, scripts or attention-seeking gimmicks are unlikely to work with a Dominican girl. These ladies are quick to respond to well-dressed and masculine men who aren't shy about their romantic and sexual desires.
Age is no bar when it comes to dating in the Dominican Republic
It is quite common for a Dominican woman to fall for an older man and consider him as a potential partner. These women simply want their man to have financial security and the rest of the things automatically fall into place. And don't worry about how this would be perceived by others because the Dominican culture is absolutely flexible about age and dating. So even if you're an older man, you can take a chance at dating a young Dominican woman. The only thing to consider is that in case you decide to get married and she wants to have kids (Dominican women love the idea of family and kids), the age factor might be a hindrance.
Brush up your dancing skills
One important thing to know about a Dominican woman is that she might be able to beat Shakira when it comes hip shaking. And she loves a dance partner to match her moves. Now it is usually difficult for western men to compete with the natural grace and talent of Dominican men and it is for this reason that they often find themselves being pushed into the friend zone pretty quickly. If you want to avoid such a situation, then it might be a good idea to take some bachata or meringue lessons before approaching a Dominican woman. But don't worry if this is a bit too much for you because your woman might be floored by just the effort you make. And sooner or later, you will learn to flow naturally with the Latin American beats because they are very catchy!
She will not pay the bill
Dominican women are known to work hard and make their money. But they aren't very comfortable with the idea of sharing their funds. So don't make the mistake of asking her for some cash, especially if you're just starting out in a relationship. She will instantly tag you as a loser and someone who has no concept of responsibility and financial independence. A Dominican woman may even question your honesty if you ask her to pay a bill or fund you in any which way. So you better pull up your socks and have a concrete life plan if you're looking to impress a Dominican lady!
Try and learn some cooking
Ever heard about the "platano"? Platano is something that comes on a platter. Learning some cooking skills is one of the most clichéd yet very effective ways of impressing a Dominican girl. Start appreciating the traditional cuisine of the Dominican Republic-dishes such as mangu, mofongo, tostones and platanos fritos. Passion for food is something that Dominican women love in a man. For those who are absolutely inept in the kitchen, it might be a good idea to take your Dominican love to the finest restaurants and treat her to some premium dishes.
A big social circle will help you
The Dominican population is known to be extremely friendly and outgoing. So a social circle might help you meet more girls in the region. Move out and interact with different groups of people in Dominica. Even if you're visiting a restaurant, get acquainted with their staff and you might get introduced to their family and friends too. These are small ways in which you can get closer to the beautiful girls in the local community.