7 Things You Need to Know about Dating Colombian Women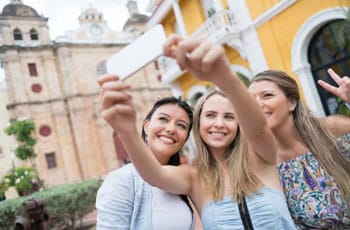 If you've been swooning looking at gorgeous Colombian women on TV, then you would probably like to date one too. Colombian women are popular for their flawless skin and curvaceous bodies and Colombia is a nation that reports the least amount of divorce cases globally. So it is quite possible for your Colombian love affair to end up being a long-term relationship. But first, let's get started by knowing some basic facts about Colombian girls that might help you woo them more easily.
1. Appreciate the beauty of a Colombian woman
You will notice that Colombian ladies aren't all the same; for instance, they usually have variable complexions. This means that you can take your pick from a wide variety of gorgeous women depending on your personal taste. But it is important to know that Colombian women want you to appreciate their gifted physical beauty. You might need to work on your compliment giving skills, especially if you're a shy person. And of course, ignorance is absolutely inacceptable when you're dating a Colombian woman. They love attention!
2. A Colombian woman takes pride in her femininity
Colombian women are quite open-minded and celebrate their femininity. So you need not feel shy or restrain yourself when dating a Colombian woman. These women do not wish to be like men and get equal rights and opportunities as many women do in the western world. Colombian girls place high value on their idea of feminism and will not mind you taking the lead in the relationship.
3. Colombian ladies are very attached to their family
Just like most other Latin American families, Colombian families are huge in size and place high value on family gatherings and rituals. When dating a Colombian girl, you would have to get used to listening about her family which includes her grandparents, parents, siblings, cousins, uncles, aunts, nieces and nephews. Several single women in Colombia continue to live with their family and even extended family. So you would need to show respect towards het attachment and love for her family.
4. Colombian women love to dance
It goes without saying that Colombian beauties, like all other Latin American women, love to shake their hips to some bachata and meringue beats! So if you're a non-dancer, dating a Colombian woman might mean investing time to take a few dance lessons. Nobody expects you to be a professional or match the natural rhythm and talent of the Colombian population, but learning a few basic steps can help a great deal too. You will soon get acquainted with the traditional drum beats and flow naturally with the music. The trick is to simply keep the woman close to your body; Latinos love seducing their partner during the dance!
5. Religion might be a delicate subject
In Latin America (including Colombia), the Roman Catholic Church is quite dominant. It means that Colombian girls are raised to be religious women. For men who lack interest in aspects related to religion, dating a Colombian woman might entail an attitude change. It isn't uncommon for Colombian women to invite their partners to attend church mass with them. It is best to respect her feelings and not refuse to participate in such religious activities. You can simply follow other people's actions on such occasions. Also, it would be a mistake to dissuade her from attending mass or any other religious ceremony because they might feel threatened and end the relationship sooner or later.
6. She would like you to try different things about her culture
The Colombian culture is quite interesting and she would love it if you showed interest in some aspects of it. For instance, you could try the 'Aguardiente'- the national drink of Colombia. It is nothing but alcohol made from sugarcane. The taste of this drink is rather strong and it might get you drunk pretty quickly; so don't consume it in excess! Nevertheless, if your Colombian lady encourages you to try it with her, don't put her down. It is actually quite fun to drink the Aguardiente in traditional shot glasses and slowly, you will get used to its strange taste!
7. Colombian women like well-dressed men
Colombian brides are gorgeous and very well turned out. Hence it comes as no surprise that they would like their dating partner to dress well too. These beautiful ladies might be quick to judge you by the way you present yourself to them. Don't worry, nobody expects you to suddenly become a style guru. You simply need to make an effort to choose slightly formal clothes, such as a pair of black pants and a crisp white shirt, instead of wearing baggy pants and a loosely fitted t-shirt. Dressing up is especially important if you're going out for a dinner date.