Dating Advice
Articles Section
Tips For Choosing Your Online Dating Photos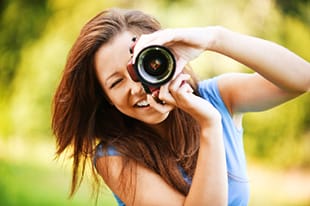 When you're trying to meet people through dating websites, the pictures you have on your profile play an important role in attracting the right match for you. Like they say, a picture is worth a thousand words and you could be chasing away the best men or women with the wrong choice of photos. Choosing the right photo for your online dating profile gives you a chance at making a good first impression. However, it's also important that you try to attract genuine people who share the same interests as you instead of shallow and self-obsessed individuals. To make it easier for you, let's take a look at some handy tips for picking good pictures for your online dating profile.
Prioritize on quality
With online dating, high-quality photos are one of the most important factors required to get noticed by the type of people you like. They give your viewers a realistic idea about what you look like, so a couple of high-quality photos are more preferable than plenty of blurry, low resolution pictures. Head-shots are ideal especially when it comes to your profile display picture, as they clearly show your face. Also, photos taken in natural light tend to be more appealing for most people.
Don't hide your face
To attract real, like-minded people, make sure you use photos that reveal your face properly. Avoid sunglasses and hats at all costs unless you already have plenty of head-shots on your profile. For the ladies, too much make-up can be a huge turn-off for men who are looking for a real relationship. Keep it as subtle as possible or even go make-up free if you feel like it. More importantly, maintaining eye-contact with the camera can help a great deal in attracting more viewers to your profile. When you look straight at the camera, you come off as confident and friendly.
Don't be afraid to smile
A little smile can help you show that you're a friendly and funny person. Moreover, it's much more attractive whether you're a man or a woman. It also gives others the idea that there won't be any harm in trying to contact you. Who knows? The right match for you could be a bit shy and they might be scared of talking to you first if you look sad and sullen in your profile photo. A smiling photo of yourself might give them the courage to send that message.
It is true that a guy might get more messages from women if he posts smoldering shirtless shots. It is also true that women can get more messages if they show some skin in their pictures. The truth is that these pictures might easily attract more shallow individuals without any interesting qualities. If you are looking for a serious commitment, the best profile photos are ones that show you as confident but approachable.
Use a recent picture
Can you imagine falling head over heels over someone online and then finding out that they actually look ten years older in person than they do in their profile picture? Like we said earlier, it is important to give others a realistic idea of what you look like in person. Even if you have gained or lost a few pounds, be honest about it. Some people tend to forget that online dating is about meeting someone special and not about creating a made-up version of yourself. If you intend to meet nice people and build a genuine relationship, make sure you use a picture taken within the past few months.
Express yourself
While it's important that you keep the previous tips in mind, it is also necessary for you to present yourself as you really are. Let your personality speak through the photos you post on your online dating profile. When it comes to clothing, wear something that you would readily wear on a first date. Avoid busy patterns or clothes with unflattering cuts.
One of the best ways to express yourself through your pictures is by using a photo of you doing something you like. Whether it's a picture of you surfing, writing, painting, playing football, or snowboarding; you could be able to attract the right type of people with the right photo. Travel photos are also ideal for presenting yourself as "the real you". In addition to this, pictures taken with animals tend to get a lot of views on dating sites and social media sites alike. Don't forget to take a second or third opinion from close friends.
Start your search for american singles now!